Cookeville High School
Class Of 1989
In Memory
Verdice Duff (Basketball/Co-Op/Softball Coach)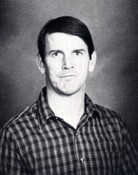 Obituary from Hooper Huddleston and Horner:
Funeral services for Cookeville High School coaching legend Verdice Duff, 69, of Cookeville, will be held Wednesday, July 8th at 7:00 p.m. (CT) at Cookeville First United Methodist Church. Dr. Martin Thielen and Joe Joe Matheney will officiate. Interment will be held Thursday July 9th at 1 p.m. (ET) at Oak Ridge Memorial Park.
Mr. Duff's family will receive friends Wednesday from 3 p.m. until service time at the church.
Verdice passed away Sunday evening, July 5, 2015 at his residence.
He was born March 31, 1946 in Oak Ridge, TN to the late Earl and Margaret Emmons Duff.
Verdice was a 1964 graduate of Oak Ridge High School and was a manager for the football team. He moved to Cookeville to attend Tennessee Tech where he earned a bachelor's degree in Business in 1968, a master's degree in Special Education in 1976 and an Ed.S degree in 1986. He was employed at JC Bradford in Nashville before beginning his teaching career at Gribble School in McMinnville where he taught for two years.
He taught for 28 years at Cookeville High School, and served as the girl's head softball coach for 23 years. He compiled a 527-210 record, making him one of the most successful high school coaches in any sport in the state. Cookeville High's softball field was named in his honor in 1997. He received the Flavious Smith Distinguished Alumnus Award in 2004 from TTU's Health and Physical Education Department. His coaching career also included a six-year term as girl's basketball coach and 17 years as an assistant football coach.
His funny and quick witted personality and good nature endeared him to his family, students, colleagues, players, opposing coaches and to his many friends. He was a member of Cookeville First United Methodist Church and attended the Backslider's Class.
He is survived by his adoring family, his wife of 36 years, Linda Kathleen "Kathy" Duff (whom he married June 16, 1979 in Roane Co.); daughter, Kim (Chris) Barns of Murfreesboro; son, Matt Duff (and fiancée Sara Peters) of Algood; grandchildren, David and Jacob Barns; and by many loving sisters and brothers in law, nieces and nephews and grand nieces and nephews.
Memorial contributions may be made to the Backsliders Class at Cookeville First United Methodist Church, 165 E Broad St., Cookeville, TN 38501 and/or American Cancer Society, 753A Humble Drive, Cookeville, TN 38501.
https://www.hhhfunerals.com/obituaries/Verdice-Duff/#!/Obituary