Cookeville High School
Class Of 1989
In Memory
Jake Libbey (Biology Teacher /Football Coach)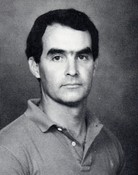 From the Herald Citizen
COOKEVILLE — Jake Libbey was born on April 23, 1941, at Vanderbilt Hospital in Nashville. His birth mother was young and suffered from pulmonary tuberculosis and unable to care for him. He was placed in Tennessee Children's Home. On July 14, 1941, he was taken to his new home by Burton Hilliard and Lavinia Wurtele Libbey and was officially adopted on July 20, 1942. He was then named for both of his grandfathers: Jacob after his maternal grandfather and Elbridge after his paternal grandfather. He grew up at 305 Walnut Drive in a very loving home. His father was an attorney for Hartford Insurance and his mother had previously been a teacher in Kentucky. They devoted many hours and drove many miles supporting Jake in all his activities.
His childhood was a very happy one. He loved animals (King, his dog) and he loved all sports. He attended Julia Green Elementary School and Hillsboro High School. He loved his high school years and had many friends. He and Jim Hicks both had 1957 Fords…Jim a Fairlane 500 and Jake a Fairlane…both blue and both washed so many times it is a wonder there was any paint left on them. During several summers in his high school years, he worked for Southern Paving Company…and it showed when he came home in the afternoon!!
He was a leader and star quarterback at Hillsboro and received a scholarship to Tennessee Polytechnic Institute in 1959 to play football. He and Jim Ragland shared quarterback duties and TPI had great success during these years. While in college, Jake joined the Marine Corps and during several summers attended the PLC (platoon leaders class) program at Parris Island.
In December, 1962, he married his high school sweetheart, JoAnn Spencer. Jake and JoAnn graduated from TPI in August, 1963. As a 2nd Lt., they moved to Stafford, Virginia where he was stationed in Quantico. They decided it would be best for him to complete a hardship duty early in his career and they were transferred to Camp Pendleton, California, for more additional training. He left in June for Okinawa and in March, 1965, the headline in the Nashville Tennessean was, "Marines Land in Da Nang" and Jake was part of this group of Marines. His family was worried and prayed for his safety, although knowing he was doing what he loved.
He returned home as a captain in July of 1965 and was never able to talk about his experiences while in Vietnam. He was sad that so many of his men died there and he felt responsible. Jake and his son, Curt, made the trip to Washington D.C. to see the Vietnam Memorial Wall hoping he could get some closure. He was stationed at the Naval Base in Philadelphia but was restless and wanted to do more. In 1966, he was transferred to Camp Lejeune, North Carolina, and from there he went to jump school in Fort Benning and was first in his class. He put in a request to go to scuba school, but the class was full and he began to think more about his future.
After some thought, he decided to leave the military and go back to school to get his master's degree in fisheries management at Tennessee Tech. Always loving Cookeville, this was a very happy time in his life. He and Taylor Mann spent many cold and snowy nights at Dale Hollow Lake with their Tech classes and responsibilities. And this was probably the beginning of his love for fishing. He, Jim Ragland, Lowell Smith and Bobby Hale spent many hours fishing and telling tales together.
In 1969, he was offered and accepted a position at the Cookeville High School as the head football coach and he taught Biology. He coached many years and truly loved his football players as well as all the students and felt they were all his. Football to Jake was more than about winning games, although he had much success on the gridiron. Loyalty, honesty, integrity and teamwork were important to him. He coached at the high school on two different occasions and in between work at Citizens Bank. Charlie Miller was president and a dear friend.
Jake and JoAnn raised their family in Hillwood Estates and there were many children in the neighborhood and so many fond memories! Swimming pool, go carts, and playing in the woods and in the creek!!
Both of Jake's boys became very avid moto-cross riders and the family traveled all over the country racing and making friends everywhere they went. Liz enjoyed going because she thought the boys were cute!! When Vic was 16, he decided that he wanted a job so he started working at Kroger and Jake and Curt continued to go everywhere together as Curt was a nationally known rider with sponsors.
In early 1993, he and JoAnn divorced, still remaining good friends until his death. In December 1993, he and Pam Cass were married and they spent many happy years together until her death in 2011.
Jake loved the Lord, his family and friends, his football players and students, the military and this great country abundantly.
He was predeceased by his parents; grandparents; sister, Cornelia Elizabeth Meers; and a very dear friend, Victor Galloway. He is survived by son, Victor Libbey and Mark Wilhelm of Sacramento, California; his son Curt and wife, Holly; his daughter, Elizabeth Grace Warner and Mark of Murfreesboro; grandsons, Jacob and Evan Libbey, Mason Espinosa, and Matt Haley; his granddaughters, Madison Espinosa, Hanna Haley; and his stepdaughter, Cindy Haley; stepson, Jim; and his niece, Hilliary Meers Oliver of Louisville, Kentucky. He is also survived by a half-brother, Sid Short of Arkansas.
Jake passed away at Bailey Manor on Saturday, May 25, 2019. Service to be at First Cumberland Presbyterian Church (565 E. 10th St, Cookeville, TN 38501), where Jake attended and was a member for more than 40 years, Saturday June 1st. Visitation will begin at 11 a.m. and the service following at 2 p.m. The service will be very casual as Jake never liked to dress up and would not want us to either.
Jake specifically asked for no flowers and donations to be made to the Putnam County Animal Shelter or the Wounded Warriors Project.
Please pray that all of our veterans can get the help they need. If you feel so moved, when you see a veteran, thank them for their service and sacrifice.
Hooper-Huddleston & Horner Funeral Home is in charge of arrangements, 526-6111. Share your thoughts and memories at www.hhhfunerals.com.